The Last of the Four Musketeers
Allen Joe's Life and Friendship with Bruce Lee
Grandmaster Allen Joe tells an extraordinary personal story of his family, true love, triumph,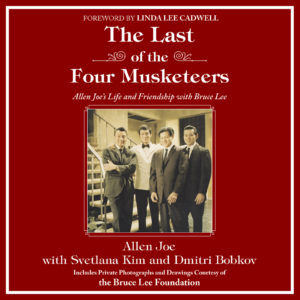 heartbreaks, and his best friends. Here is the true story told with enormous honesty, keen insight, passion, and essence of the human life.
Allen takes us inside his family in Oakland's Chinatown before World War II and shares his experience of war and meeting his best friend, Bruce Lee. When Bruce and Linda were married in 1964, they moved to Oakland and lived with James Lee, his wife, and two children. As you read the story of Allen's life, you will learn how Allen's long-time friendship with James led to a meeting with Bruce in Seattle. As a reader, you will enter Bruce Lee's world and get to know James, Bruce, Allen, and George, the Four Musketeers.
Linda, Bruce Lee's widow, says, "I know Allen's story will help people better understand Bruce Lee's story; the story of achieving excellence against all odds. That is what this book is about."
"There are certain friends of my father I have gotten to know throughout my life that hold their friendship with my father in such a place of pure love. Their radiance blesses me every time I see them. Uncle Allen is one such friend. Thank you, Allen, for being such a bright light in my life."
Shannon Lee, Bruce Lee's daughter and chairman of the Bruce Lee Foundation
"Allen Joe's story reveals how, when faced with long odds of success, persistently cultivating physical strength and mental strength enables us to overcome enormous odds. The bonds of friendship between Allen Joe and Bruce Lee offer every reader a powerful philosophy of living, innovating, and thriving."
Sarah Miller Caldicott, great-grandniece of Thomas Edison; author of Midnight Lunch and Innovate Like Edison
This book is available through local booksellers, online at Amazon, or online through major retail stores in the U.S.A.
---
About the Authors
Allen Joe was the first Asian American to win the title of Mr. Northern California Bodybuilding Champion in 1946. He was one of Bruce Lee's closest friends and inspired Bruce to build up his body through proper training. Allen is a role model for young martial artists, demonstrating not only physical skills but also the values of friendship, respect, and hard work. Allen has continued to love and support Bruce's family over the decades since Bruce passed away. At ninety-two years of age, Allen still lifts weights and stays in good shape.
After serving in World War II, Allen married his high school sweetheart, Annie, and they have been together for sixty-nine years. Today, Allen serves on the Board of the Bruce Lee Foundation. He is esteemed as an ambassador for the preservation of the legacy of his old friend Bruce.
Svetlana Kim is the author of White Pearl and I: A Memoir of a Political Refugee. She is also a speaker and radio talk show host. Svetlana was selected to be a spokesperson for the 2011 MACY'S Asian Pacific American Heritage Month. She lives in the San Francisco Bay Area.
Dmitri Bobkov is the author of Voice from the Past: Lies and Truth at the Bottom of the Biggest Criminal Case in Belarusian History.  He also moderates an online network for dialysis patients. Dmitri lives in the San Francisco Bay Area.
The Last of the Four Musketeers: Allen Joe's Life and Friendship with Bruce Lee is sold on www.BruceLee.com.