Macy's Cultural Celebration
Asian Pacific American Heritage Month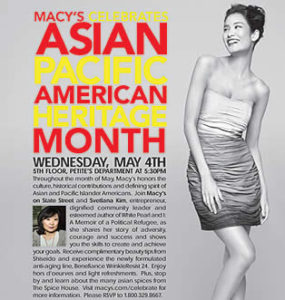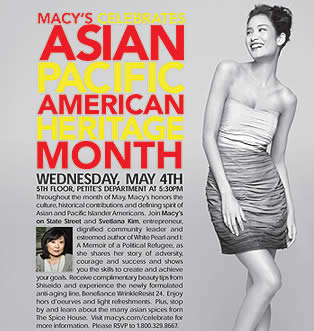 In May 2011, Macy's held a month long event celebrating the culture, historical contributions and

defining spirit of Asian and Pacific Islander Americans.   As a part of these events they invited author and entrepreneur,  Svetlana Kim to share her st

ory of adversity, courage and success.  During the presentation Svetlana shared how to build the skills to create and achieve personal goals.
"Asian-Pacific Americans have had a tremendous impact on our nation and we are proud to celebrate these achievements with our Asian-Pacific American Heritage month events nationwide," said Corliss Fong, Macy's vice president of Diversity Strategies. "We are also thrilled to welcome back author, entrepreneur and community leader, Svetlana Kim to Macy's, as she helps us empower our valued guests with her stories of success and achievement."
Throughout the month of May, Macy's is honoring the culture, historical contributions and defining spirit of Asian and Pacific Islander Americans. Join entrepreneur and community leader Svetlana Kim-esteemed author of White Pearl and I: A Memoir of a Political Refugee-as she shares her courageous story of overcoming adversity and finding success.
She'll also show you how to create and achieve your own goals.
As part of this fun and inspiring event, you'll receive free beauty tips from our experts and exclusive in-store savings!
These events and Svetla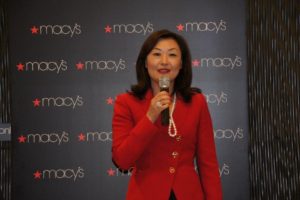 na Kim's involvement was promoted in the New York Times, the Washington Post and other publications where the events were held.
Below is the information Macy's shared on the event website.
You can review the Macy's Press Release for this event here.
---
Svetlana Kim is an acclaimed business leader, community advocate and the founder of Svetlana Kim LLC. Her incredible story of success is captured in her book White Pearl and I: A Memoir of a Political Refugee. At the age of 23, Kim arrived in America with only a dollar in her pocket and without a word of English. She went from getting her first job at Macy's West to becoming an executive with Laura Mercier Cosmetics, running NBC Universal's Business Women's Network and ultimately fundraising for former Senator Hillary Clinton.
Today, she is an award-winning international speaker and entrepreneur, who has inspired audiences across the world. In 2008, Kim was inducted into the Asian Academy Hall of Fame. A year later, she delivered the Asian Pacific American Heritage Month Keynote Address at the Library of Congress and also won the Leadership Award from the International Leadership Foundation.
To help others achieve their goals, Kim reveals her secrets to success through a powerful series of motivational seminars and workshops. Her signature Four Pearls of Wisdom – passed down from her grandmother – are the cornerstones to her philosophy and triumphs.
Join us for this dynamic event as Kim tells her story and shares her Four Pearls of Wisdom.