Speaking for Organizations
Svetlana Kim is an international businesswoman, remarkable author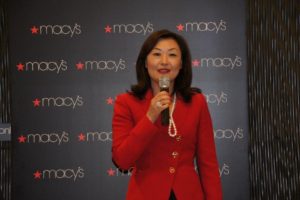 , and inspiring speaker. Her speeches deliver maximum value to business owners, corporate employees, and international audiences. She speaks English and Russian.
Some of her signature speeches include: 
My Russian-Korean Babushka's Secrets on How to Persevere in Tough Times and Achieve Ultimate Success
How to Climb the Ladder to Success: What I Discovered While Going From Cleaning Lady to Presidential Fundraiser
Giving Without Remembering, Taking Without Forgetting: How to Build Successful Relationships in Business and Life
For Svetlana's Biography please click here.  PDF
Information on Svetlana's Radio Show Click here.
It's not often you hear a speaker whose words are so hopeful and profound that you are somehow changed by them. Svetlana Kim often gets such a response from members of her audience when they hear her speak from the heart about her life experiences, or her motivation to write her autobiographical book, White Pearl and I: A Memoir of a Political Refugee. The wisdom and anecdotes she shares are inspiring and relevant to all Americans.
Svetlana credits her gift for storytelling to her paternal grandmother, White Pearl. Her grandmother's own life stories, shared with Svetlana as a y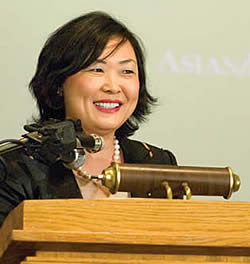 oung girl and throughout her life, had great influence in molding Svetlana's inner strength and character. Svetlana speaks with obvious love and admiration when relating a story or pearl of wisdom from her grandmother.
Svetlana has been a presenter or keynote speaker at several functions in Washington, DC., including: The Asian Leaders Association, the Library of Congress Asian Division Friends of Society, the Global Coalition for Korean War Reconciliation, Diversity and Women's Leadership Annual Conference, ICAS Fall Symposium: Humanity, Peace, and Security in the U.S. Senate, Georgetown University, and many others.
Testimonials:
"Your speech was awesome. You are truly an inspiration."
~ Robert Shemin, The Wall Street Journal bestselling author of How Come THAT Idiot's Rich and I'm Not?
"Your story is amazing!"
~ Frank McKinney, five-time international bestselling author of The Tap and Make It Big!
"The inimitable super networker and rags-to-riches memoiress author of White Pearl and I: A Memoir of a Political Refugee."
~ John David Mann, co-author of The Go-Giver and Go-Givers Sell More
www.johndavidmann.com
What Extreme Business Makeovers conference participants are saying about Svetlana:
"Hi, Svetlana.  Your beauty, grace, courage, and wonderful sense of fun came through and blessed us all at the Extreme Business Makeovers conference. Thank you for spreading the power of living in a state of gratitude and for helping to make the XBM experience such a joyous and life-changing event."
~ Sandy Harper, creator and coach of Gratitude Boot Camp
"Wow! What an amazing experience we all shared together this past few days! It seems like yesterday we were all meeting in 2009 and now here it is another year completed! I just want to THANK YOU for being who you are and for allowing us to catch a glimpse of your heart and life, your family and the sacrifice you made when you climbed on that plane so many years ago. I wish we could bottle you up and pour you out onto every human being who thinks they have no future! You have shown so many that with courage and resolve anything can happen. Svetlana, I so admire and respect you as a woman and a mentor and am grateful to know you and have the opportunity to learn so much from your life. I pray many rich blessings in your life and future."
~ Kathleen Smart, co-founder of IBAL
www.ibalnet.com
"As you held my hand I felt your inner peace, strength and power. You are a warrior for change and I am honored to know you. You are my 'White Pearl.'"
~ Darien Hills
"What an amazing smile and laugh you have! With total lack of inhibition, the joy you feel is an aura of kindness and caring which touches anyone close enough to feel your energy. Every moment is precious, and it was my honor and my pleasure to have spent time with you."
~ Laura Sterling
"Lana has been one of the most engaging guest that we've enjoyed having at WomensRadio. Her knowledge of the little-known history of Koreans in Russia and her own personal history of the women in her family and what they endured, makes her book White Pearls and I pop off the pages. Our audience related because we have all preserved through hard times. Lana's personal story is more dramatic, and certainly very inspiring."
~ Pat Lynch, Founder and Editor in Chief of WomensRadio
Lana Kim's persona and carriage belie the experiences of dislocation and struggles that she went through as a Soviet refugee arriving in America. Today, in the bustle of the nation's capital, Lana projects the strength, courage and aspirations of a leader, able to persuade, motivate and inspire others. Her vision is clear: that she must serve her fellowmen.
The memories and values imparted by the most influential woman in her life, her grandmother, have sustained her daily life. Lana offers her friendship to all and those who have been touched by her presence in their lives have been inspired to follow her lead.
~ Reme Grefalda, Former Librarian/Curator of Asian Pacific American Collection, The Library of Congress